Note: This trick may or may not know to some people
first of all, minimize all your windows (WIN_KEY + D)
open TaskManager (right click on taskbar and choose Taskmanager or CTRL + SHIFT + ESC), then – > More Details
Now,open Process Tab and search for Windows Explorer or explorer.exe in the process tab
Now, right click on it and End the task
You'll be panic for a moment because nothing displays on your screen except the TaskManager window.
Like this —→>>
Nothing works without Explorer task, No shortcuts works like opening Run (WIN + R), Explorer (WIN + E) etc., The only solution is : on top of the task manager tab, Click on File → Run new task →
Now type explorer or explorer.exe and make sure that you've checked "Create this task with administrative privileges" and now click on "OK"
You'll be back with the displaying all the processes/tasks running (Taskbar)
Note: Please do this step, do not restart your PC until you do this. If you've done so open Taskmanger again after restarting your PC (CTRL + ALT + DEL or CTRL + SHIFT + ESC) and do the above step. Because sometimes after restarting your PC "explorer.exe" process may not start automatically.
PS: You can use this trick to fool your friends and Shoot your comments (Experiences).
Just Freeze The Desktop
For doing this prank, just Go to the desktop and press the Print Screen Button. Now open Paint and paste it (Ctrl+V). Save this image anywhere. Now, do a right-click on it and set as Desktop Background.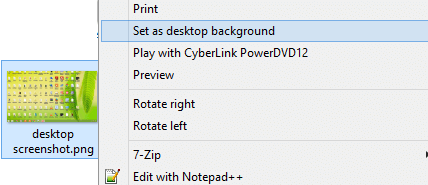 Go to your desktop, and Un-check the option Show Desktop Icons.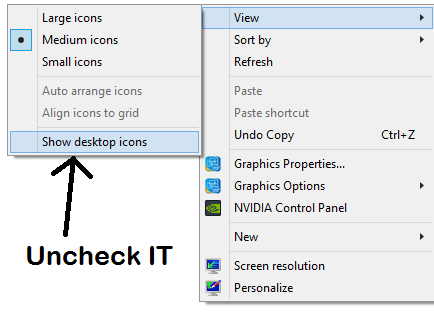 Now, Be ready to see your friend clicking randomly and then checking his mouse again and again.
Just Make it Large
Just Press Windows Button and then keeping the windows button pressed , Just press + Button 3-4 times.

If you wanna add salt to it, Just Press CTRL+Alt+I . This will make his screen look horrible and compromised.

Rescue Method – To get back things to Normal Again, Just press CTRL + Alt + I again , and then press Windows Key and keeping it pressed, Just press – key 2-3 times.